The Secrets in Lace Story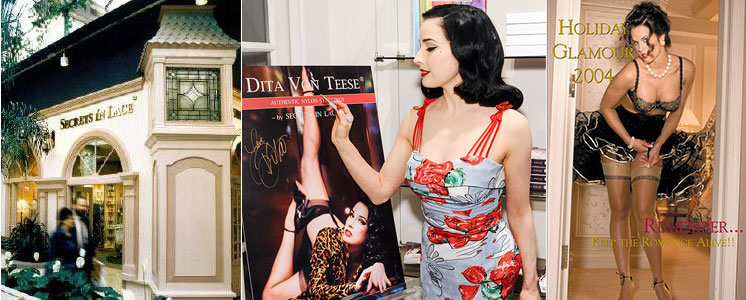 ---
We started SECRETS IN LACE ® in Northern Virginia in 1984 with the simple concept in mind of "Keeping the Romance Alive" through the sale of classically elegant lingerie. In our first store we sold classic foundations and authentic nylon stockings which today are popular as Retro or Vintage lingerie.
We never changed what we sold because the fit and styling made our customers look and feel great. Our concept was a success and we quickly grew to four stores in the Washington DC Area before launching our mail order operation in 1995. Since then our mail order catalogue and website have been making history worldwide at SecretsInLace.com.

Today we are the largest retailer in the world of 100% nylon stockings with over 40 exclusive styles to our credit. We own and operate two of the worlds remaining vintage stocking factories where we design and manufacturer the Secrets In Lace Brand. Our preeminent position as the leader in fine vintage nylon stockings has led us to develop coordinating Retro Chic foundations; Garter Belts, Girdles, Bullet Bras, Shelf Bras and Plunge Bras that are based on patterns from garments developed in the 1960's that we sold in our stores in the 1980's. Our daywear slips, camisoles and tap pants are also authentic to the 1960's. Designed for everyday wear (just like in the 1960's), Secrets in Lace carries classic styles and unlike lingerie that's strictly for fantasy, the Salons at Secrets In Lace have comfortable Faux Vintage Lingerie for every possible occasion that captures a feminine, classic look.

Our penchant for Vintage detail lead us to become the exclusive designers of the Bettie Page Lingerie Collection from 2009 - 2014 and Dita Von Teese Stocking Collection. We are often called on by stylists around the world to provide authentic vintage lingerie and stockings for movies, television shows and stage performances.
For many Secrets In Lace has become a life style, our garments are worn by the worlds most famous and influential people. Only they know what lays beneath their classically elegant attire......their "Secrets In Lace". We invite you to share in this incredible feeling and expression of femininity.
Remember...Keep The Romance Alive!
Daniel J Whitsett
President and Co-Founder
Secrets In Lace